Prevalence of Dandruff among the Pupils and Staff of some Selected Public Schools in Katsina State
Keywords:
Dandruff, Prevalence, Scalp
Abstract
Dandruff is characterized by patches of loosely attached flakes on the scalp, which are generally accompanied by irritation. malassezia species of the genus restricta and globossa, Staphylococcus species of the genus aureus, and Bacteria of the genus Propiobacterium are components of human skin microflora and etiological agents of dandruff.   The purpose of this study was to investigate the prevalence of dandruff,  Isolation and identification of the pathogens causing the dandruff infection among secondary school students in Katsina State. The study was a cross-sectional survey conducted with the permission of seven local government areas, namely: Katsina, Funtua, Mani, Kankia, Malunfashi, Dutsin-ma, and Daura. According to the prevalence studies of the selected LGAs, Kankia and Mani Local Governments had the highest prevalence rates of 14.81% and 14.65%, respectively, followed by Daura, Malunfashi, and Funtua with 14.49%, 14.33%, and 14.01%. Dutsinma and Katsina had the lowest prevalence rates, of 13.85% and 13.85%, respectively.    Males (51%) were more affected than females (49%), out of the 420 people polled.  The prevalence by age shows that the age group 11-20 years has the highest incidence of dandruff infection, with 58.83%, followed by the age groups 1-10 years, with 21.88%, and 21-30 years, with 8.27%. The socioeconomic position of the individuals studied was found to be a risk factor for the occurrence of this disease. The prevalence of dandruff was highest in villages, followed by towns, with 58% and 42%, respectively. To prevent the spread of this disease, the researchers recommend sterilizing barbing and weaving materials.
References
Acero, F., Aharonian, F., Akhperjanian, A. G., Anton, G., De Almeida, U. B., Bazer-Bachi, A. R., and Shalchi, A. (2010). First detection of VHE γ-rays from SN 1006 by HESS. Astronomy & Astrophysics, 516, A62. https://doi.org/10.1051/0004-6361/200913916
Adefemi A., Odeigah O., Alabi K. (2011). Prevalence of dermatophytois among primary school children in Oke-oyi community of Kwara State.Niger. J. Clin. Practice14(1):23-27. https://doi.org/10.4103/1119-3077.79235
Akroum S, Satta D, Lalaoui K (2009). Antimicrobial, antioxidant, cytotoxic activities and phytochemical screening of some Algerian medicinal plants. European Journal of Science. Research. 2:289-295
Aliero, A. A., Shehu, K., Manga, S. S. and Bagudo, A. I. (2013). Prevalence of dermatophytosis among school children in kebbi state, nigeria. Equity Journal of Science and Technology 1(1):1-5
Baroni, A., De, R.R, and Donnarumma, G. (2008). New Strategies in Dandruff Treatment: Growth Control of Malasseziaovalis. Dermatol., 201: 332-336. https://doi.org/10.1159/000051548
Canback. Retrieved 2008-08C-GIDD (Canback Global Income Distribution Database)".http://www.onlinenigeria.com/map.gif
Cecile C, Jourdain R, Bar-Hen A, Tichit M, Bouchier C. (2013). Dandruff Is Associated with Disequilibrium in the Proportion of the Major Bacterial and Fungal Populations Colonizing the Scalp. Bangladesh Pharmaceutical Journal22(2): 146-152
Cheesebrough M. (2006). District Laboratory Practice In Tropical Countries, part 2, second edition Cambridge University press, The Edinburgh Building, Cambridge, United Kingdom, 38, 62-69.
Deangelis ,Y.M., Gemmer, C.M, and Kaczvinsky, J.R.. (2005). Three etiologic facets of dandruff and seborrheic dermatitis: Malassezia fungi, sebaceous lipids, and individual sensitivity. J Investig Dermatol Symp Proc. 10(3):295-297. https://doi.org/10.1111/j.1087-0024.2005.10119.x
Ghosh R., Ray R., Ghosh T., Ghosh P. (2014) Clinicomycological profile of dermatophytoses in a tertiary care centre hospital in West Bengal- An Indian Scenario. Int J Curr Microbiol App Sci.; 3(9):655-6.
Hassard H. and Whelan W. (1963). Classification of the informed Consent rule. California medicine.
Hedayati M., Kachap S.K., Rosmus N., Collis S.J., Kortenhorst M.S.Q., Wissing, M.D., and Carducci M. A. (2010). Dawnregulation of homologous Recombination DNA repair gene by HDAC inhibition in prostate cancer in mediated through the E2F1Transcription factor. PLoS ONE, 5(6). https://doi.org/10.1371/journal.pone.0011208
Kohinur B., Farjahan N. and Mashmum S. (2019) Isolation and Characterization of Malasezzia Species from Dandruff Samples and Determination of its Sensitivity Towards Antifungal Agents. Bangladesh Pharmaceutical Journal22(2): 146-152. https://doi.org/10.3329/bpj.v22i2.42298
Kreyce, R. V., & Morgan, D. W. (1971). Determining sample size for research activities. Educational and psychological measurement, 30(3), 607-610. https://doi.org/10.1177/001316447003000308
Laurent M., Nora R., Antoine D., and Charles T. (2013) Epidemiology of Dandruff, Scalp Pruritus and Associated Symptoms Acta Derm Venereol93(2): 234-239
Nweze, E. L., and Okafor, J. I., (2005). Prevalence of dermatophytic fungal infection in children: A recent study in Anambra state, Nigeria, Mycopathologia, 160(1):239-243
Priyam B., Bandana M and Swetalona P. (2019).Prevalence of dermatophytic infections including antifungal susceptibility pattern of dermatophytes in a tertiary care hospital.International Journal of Research in Medical Science 14(3):2320-607
Rippon, JW. (2000). Superficial Mycoses.Med Mycol., 2nd Ed.Pp140-53.
Roopa C and Biradar S. (2015). Incidence and Identification of Dermatophytes in a Tertiary Care Hospital in North Karnataka.India. Int J Curr Microbiol App Sci. 4(9):986-90. 17
Schwartz, JR., Cardin, C.W., DeAngelis, Y.M., and Dawson, TL. (2010) Textbook of Cosmetic Dermatology pp 230-241. https://doi.org/10.3109/9781841847641.029
Shu'aibu I., Hauwa S., Fatima U and Muhd M. (2013). Isolation and Identification of Malassezia globosa, Associated with Dandruff among Female Students of Gombe State University. Greener Journal of Microbiology and Antimicrobials 8(2):2354-2284. https://doi.org/10.15580/GJMA.2013.1.080913827
Surbhi R., Kshama M and Anita C. (2018). Antimicrobial activity of natural herbal products against dandruff causing fungus and bacteria.World Journal of Pharmaceutical Research.5(2):334-338
Zhijue X., Zongxiu W., Chao Y., Xiaoping L., Fang Y., Ting W., Junling W., Kenji M, Ou Q., Xuemin W., Yan Z., and Menghui Z. (2016) Dandruff is associated with the conjoined interactions between host and microorganisms. scientific reporters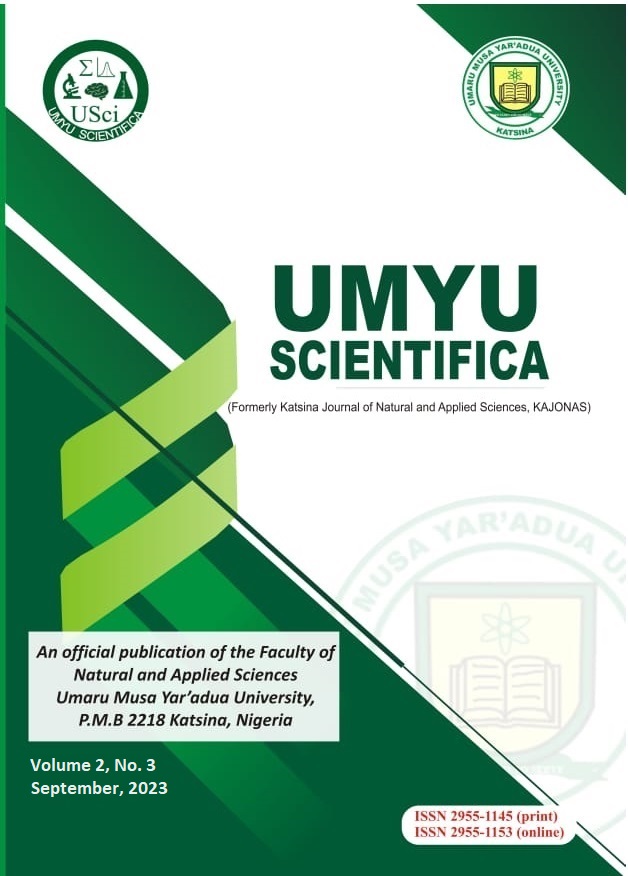 Downloads
How to Cite
Nawaf A., Sanusi, J., Ibrahim S., Babangida I., & Liadi S. (2023). Prevalence of Dandruff among the Pupils and Staff of some Selected Public Schools in Katsina State. UMYU Scientifica, 2(3), 121–127. https://doi.org/10.56919/usci.2323.018
License
Copyright (c) 2023 UMYU Scientifica
This work is licensed under a Creative Commons Attribution-NonCommercial 4.0 International License.