Antibiotic Resistance Profile of Bacteria Isolated from Stream Water in Bokkos Local Government Area of Plateau State, Nigeria
Keywords:
Antibiotics resistance, Bacteria, Stream water, Bokkos
Abstract
Water from selected streams in Bokkos local government area of Plateau State Nigeria was obtained and analysed for the presence of antibiotic resistant bacteria and the resistance pattern of the isolates against several antibiotics. A total of 25 stream water samples were collected for testing from five (5) different study sites (Tudu, Mabel, Dairy Farm, Maihakorin Gold and Kuba). Heterotrophic and coliform bacteria were isolated from the samples using 10-fold serial dilution and the pour plate method. The isolated bacteria were Proteus vulgaris, Salmonella spp., Escherichia coli, Pseudomonas spp., Shigella spp., Bacillus spp., Streptococcus spp., Staphylococcus aureus. Antibiotic susceptibility of isolates was determined using the disc diffusion method. Among the eight bacterial isolates, Salmonella spp. was the most frequently occurring bacterium 18(22.8%), followed by E. coli 16(20.3%), while the least occurring bacterium was Staphylococcus aureus 5(6.3%). The highest antibiotic resistance was recorded for Salmonella spp., E. coli, and Pseudomonas spp. against ceftazidime 12(67%), Ampicillin 12 (75%), and ceftazidime 11 (92%), respectively. However, E. coli, Proteus spp., Staphylococcus spp., and Shigella spp. showed high antibiotic susceptibility against cefuroxime 0(0%) and Gentamicin 0(0%). The results suggests that there are antibiotic resistance bacteria in stream water in Bokkos local government area of Plateau State. Educational awareness regarding the proper use of safe drinking water and the treatment of water before use should be encouraged.
References
Babalola, T. F., Olowomofe, T. O., Omodara, T. R. and Ogunyemi, T. Y. (2021). Antibiotic Resistance Pattern and Plasmid Profile of Bacteria Isolates from Household Water DistributionTanks in Ado-Ekiti. J Pure Appl Microbiol. 2021;15(3):1697-1704. doi: 10.22207/ JPAM.15.3.66. https://doi.org/10.22207/JPAM.15.3.66
Borquaye, L. S., Ekuadzi, E., Darko, G. et al. (2019). Occurrence of antibiotics and antibiotic-resistant bacteria in landfill sites in Kumasi, Ghana. J Chem., 2019: 1-10. https://doi.org/10.1155/2019/6934507
Cheesbrough, M. (2006). District Laboratory Practice in Tropical Countries (Part ii). Cambridge University Press, p50-150. https://www.medbox.org/preview/5255d6e1-05d4- 41a9-beb2-02b60e695ecc/doc.pdf
Chitanand, M. P., Kadam, T. A., Gyananath, G., Totewad, N. D. and Balhal, D. K. (2010). Multiple Antibiotic Resistance Indexing of Coliforms to IdentifyHigh Risk Contamination Sites in Aquatic Environment. Indian Journal of Microbiology, 50:216-220. https://doi.org/10.1007/s12088-010-0042-9
Clinical and Laboratory Standard Institute (CLSI). (2012). Performance Standards for Antimicrobial Susceptibility Testing; Fifteenth Informational Supplement, Clinical and Laboratory Standard Institute Wayne, Pa. M100- S15. 25: 1
Collee, J. G. (1996). Mackie and McCartney Practical Medical Microbiology. Editors: Collee JG, Marmion BP, Fraser AG, Simmons A, 14th ed.London: Churchill Livingstone. p. 889-892.
Ekelozie, I. S., Ekejindu, I. M., Ochiabuto, O., Obi, M., Onwuasonya, U. and Obeagu, E. I. (2018). Evaluation of Salmonella Species in Water Sources in Two Local Government Areas of Anambra State. Cohesive J Microbiol infect Dis., 1(1). CJMI.000501. https://doi.org/10.31031/CJMI.2018.01.000501
Ekhosuehi, A., Akharame, M. O. andObayuwana, P. (2018). Bacteriological Quality and Antibiogram of Isolates from Potable Water Sources in Ekosod in Community, Benin City, Nigeria. Journal of Applied Science and Environmental Management, 22(1) 129-133. https://doi.org/10.4314/jasem.v22i1.24
Environment Protection Agency (EPA). (2002). US Environment Protection Agency: Safe Drinking Water Act Amendment, 2002. P. EPA 816 - F - 03 -016.
Geta, K, and Kibret, M. (2022). Antibiotic Resistance Profiles of Bacteria Isolated from Hotspot Environments in Bahir Dar City, Northwestern Ethiopia. Journal of Multidiscipline and Healthcare, 15:1403-1414. https://doi.org/10.2147/JMDH.S364324
Hleba, L., Kačániová, M., Pochop, J., Lejková, J., Čuboň, J. and Kunová, S. ( 2011). Antibiotic resistance of enterobacteriaceae genera and salmonella spp., salmonella enterica ser. typhimurium and enteritidis isolated from milk, cheese and other dairy products from conventional farm in Slovakia. Journal of Microbiology, Biotechnology and Food Sciences, 1 (1): 1-20.
Hoekstra, A. Y. and Hung, P. Q. (2005). Globalization of Water Resources:International Virtual Water Flows in Relation to Crop Trade. Global Environmental Change, 15(1): 45-56. https://doi.org/10.1016/j.gloenvcha.2004.06.004
Holt, G. J., Krieg, N. R., Sneath, P. H. A., Stanley, J. T. and Williams, S. T. (1994). Bergey's Manual of Determinative Bacteriology. 9th Ed; Baltimore md; Williams and wikins. Pub.co, Maryland, p786.
Kapil, A. (2004). The Challenge of Antimicrobial Resistance: Need toContemplate. Indian Journal of Medical Research, 121:83-91.
Mbah, E. I., Abu, G. O. and Ibe, S. N. (2016). MetagenomesBased Investigation of the Impact of Natural Run-offs and Anthropogenesis on a Freshwater Ecosystem at Points of Use in Niger Delta, Nigeria. International Journal of Innovative Research Development(IJIRD),10:12-15.
Moges, F., Endris, M., Belyhun, Y., et al. (2014). Isolation and characterization of multiple drug. https://doi.org/10.1155/2014/726193
resistance bacterial pathogens from wastewater in hospital and non-hospital environments, Northwest Ethiopia. BMC Res. Notes, 7:2-7. https://doi.org/10.1186/1756-0500-7-215
Momtaz, H., Dehkordi, F. S., Rahimi, E. and Asgarifar A. (2013). Detection of Escherichia coli, Salmonella species, and Vibrio cholerae in tap water and bottled drinking water in Isfahan, Iran. BMC Public Health,13:556. doi:10.1186/1471-2458-13-556. https://doi.org/10.1186/1471-2458-13-556
Nevondo, T. S. and Cloete, T. E. (1999) Bacterial and Chemical Qualities of Water Supply in Dertig Village Settement. Water SA, 25:215-220.
Obi, C. L., Coker, A. O. Epoke, J. and Ndip, R. N. (1998). Distributional Pattern of Bacterial Diarrhoeagenic Agents and Antibiograms of Isolates from Diarrhoeic and Non-Diarrhoeic Patients in Urban and Rural Areas of Nigeria. Central African Journal of Medicine, 44:223-229.
Oluyege, J. O., Dada, O., Oluyege, A. O. andOlowomofe, T. O. (2014). Multiple Antibiotic Resistance Index of Escherichia coli Isolated from Drinking Water Sources in Ado-Ekiti, Ekiti State. The Experiment, 28(1):1896-1905. doi: 10.3242/expj.v19j3.7689.
Onwa, N. C., Uzomaka, I. C., Maduako, A. L., Elom, E. E., Ikeanumba, M. O. andNwode, V. F. (2019). Antibiotic Susceptibility of Bacterial Species Isolated from Underground Waters in Abakaliki Metropolis of Ebonyi State, Nigeria. International Journal of Pharmaceutical Science Invention(IJPSI), 8(2):55-65.
Osei, F. B., Boamah, V. E., Agyare, C. and Abaidoo, R. C. (2019). Physicochemical properties and microbial quality of water used in selected poultry farms in the ashanti region of ghana. Open Microbiol. J., 2019; 13(1). https://doi.org/10.2174/1874285801913010121
Osei, F. B., Boamah, V. E., Boakye, Y. D., Agyare, C. and Abaidoo, R. C. (2021). Antibiotic Resistance of Bacteria Isolated from Water Supplies Used in Poultry Production in Ashanti Region of Ghana. Open Microbiology Journal, 15:7-15. https://doi.org/10.2174/1874285802115010007
Pan, M. and Chu, L.M. (2018) Occurrence of Antibiotics and Antibiotic ResistanceGenes in Soils from Wastewater Irrigation Areas in the Pearl River Delta Region,Southern China. Science of the Total Environment, 624: 145-152. https://doi.org/10.1016/j.scitotenv.2017.12.008
Poonia, S., Singh, T. S. and Tsering, D. C. (2014). Antibiotic Susceptibility Profile of BacteriaIsolated from Natural Sources of Water fromRural Areas of East Sikkim. Indian Journal of Community Medicine, 39(3): 156-160. https://doi.org/10.4103/0970-0218.137152
Reliefweb. (2013). Children dying daily because of unsafe water supplies and poor sanitation and hygiene. Press release. New York: United Nation's Children EducationFund; 2013. Retrieved from: https://reliefweb.int/report/world/children-dying-daily-because-unsafe-water-supplies-and-poor-sanitation-and-hygiene.
Sharma, B. C. and Rai, B. (2012). Incidence of Multi-Drug Resistance in E. coliStrains Isolated from Three Lakes of Tourist Attraction (Mirik lake,Jorepokhani lake and Nakhapani lake) of Darjeeling Hills, India.Indian Journal of Fundamental Applied Life Science, 2:108-114.
Sumathi, S. and Manonmani,E. (2016). "Physiochemical and Microbiological Study of River Water. In: Swedish Work on Containment of antibiotic resistance - Tools, methods and Experiences (PDF). Stockholm: Public Health Agency of Sweden. pp. 16-17, 121-128. ISBN 978-91-7603-011-0.
Tangwa, B. V., Keubou, H., Nfor, E. N. and Ngakou, A. (2019). Antimicrobial Resistance Profile of BacteriaIsolated from Boreholes and Hand Dug WellsWater in Ngaoundere Municipality of AdamawaRegion in Cameroon. Advances in Microbiology, 9: 629-645. https://doi.org/10.4236/aim.2019.97039
Teshome, A., Alemayehu, T., Deriba, W. et al. (2020). Antibiotic resistance profile of bacteria isolated from wastewater systems in Eastern Ethiopia. J Environ Public Health., 2020:1-10. https://doi.org/10.1155/2020/2796365
Verma, N. S., Gupta, A., Dubey, M., Mahajan, S. and Sharma, R. (2011). ResistanceStatus of Some Pathogenic Bacteria Isolated from Water of YamunaRiver in Agra. Asian Journal of Experimental Biological Science, 2:697-703.
World Health Organization (WHO) (2006). Protecting Groundwater for Health: Managing the Quality of Drinking Water Sources. IWA Publishing, London. https://www.who.int/water_sanitation_health/ publications/PGWsection1.pdf?u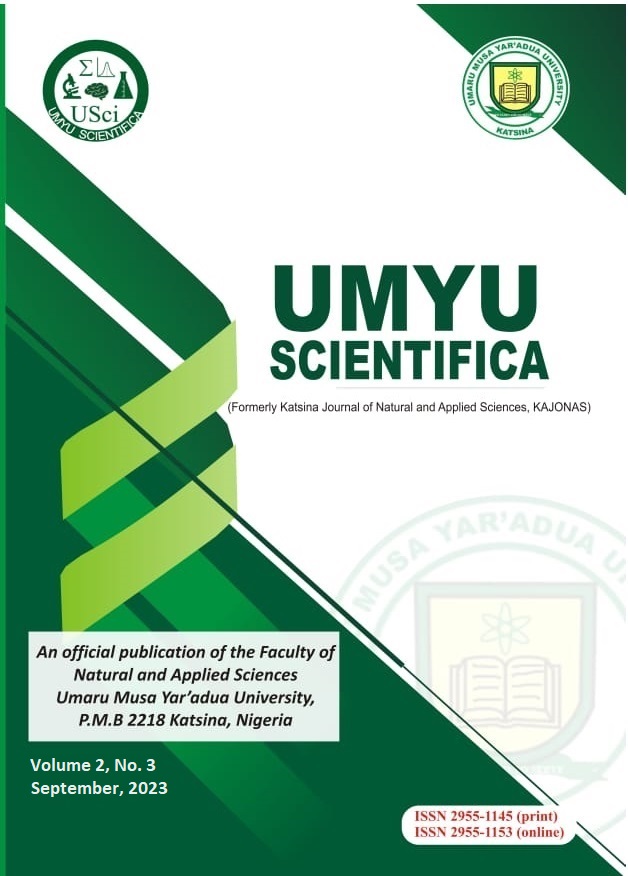 Downloads
How to Cite
Gugu, M. F., Vomagai, K. N., Mwanja, P. Y., Ombugadu, A., Adejoh, V. A., & Attah, S. A. (2023). Antibiotic Resistance Profile of Bacteria Isolated from Stream Water in Bokkos Local Government Area of Plateau State, Nigeria. UMYU Scientifica, 2(3), 009–014. https://doi.org/10.56919/usci.2323.002
License
Copyright (c) 2023 UMYU Scientifica
This work is licensed under a Creative Commons Attribution-NonCommercial 4.0 International License.